Restroom Trailers – Elkins, WV
Luxury Wedding, Party & Special Event Rentals
"Make Your Event a Masterpiece Event!"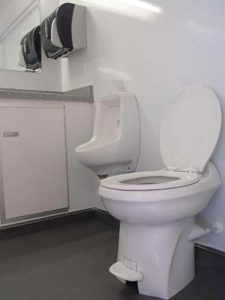 Our luxurious restroom trailers features fully self-contained restrooms. Each station offers complete privacy – no stalls or side-by-side urinals. The durable and attractive interiors are easy to clean and maintain. This unit is perfect for your wedding, formal party, or corporate event.
We have two restroom trailers in stock. Options include a 3-stall restroom trailer for larger events and a 2-stall restroom trailer for your smaller gatherings.
Features include:
Fold-down steps with aluminum railings
LED porch light & occupancy indicator light
Roof mounted ducted A/C
Fresh water storage tank or fresh water hook-up
Self-closing sink faucet
Soap dispenser
Toilet paper holder
Paper towel dispenser
Trash receptacle (inside cabinet)
Our Trailers come ready to use and fully stocked with all the restroom necessities such as paper towel and toilet tissue to make your planning process easier.
Comfortable Restroom Rental With Running Water & Privacy
Style and comfort are a reality when you choose a luxury restroom trailer for your guests. Unlike portable toilets, this is a fully outfitted restroom trailer with all the comforts of home. It is designed very much like a standard residential half bathroom. Our clean, spacious restroom offers luxurious areas to take care of hygiene, hand washing, and freshening up no matter when or where you decide to host your formal event. When your guests deserve the ultimate in comfort, privacy, and convenience, offer the classy hygiene option: a full sanitary restroom from Masterpiece Rentals.
VIP Treatment for Your Guests – Luxury Restroom Rental
"This Is NOT Your Standard Porta-Potty!"
Every detail counts when you are hosting a formal event. Treat your guests like the VIPS they are with the royal treatment. Quality is in everything we do. When a standard porta-potty just won't do for your guests, offer them the luxury of air conditioned comfort, running water, soaps, hand towels, private trash disposal, and a well-lit, spacious accommodation fit for a king (or queen).
Offer your guests a comfortable, upscale restroom environment at your wedding or special event. They will notice – and it will be appreciated. Contact Masterpiece Rentals in Elkins, WV, to check availability.
---