Dance Floor and Tent Flooring Rental – Elkins, WV
Wedding, Party & Special Event Flooring – Indoor & Outdoor
"Make Your Event a Masterpiece Event!"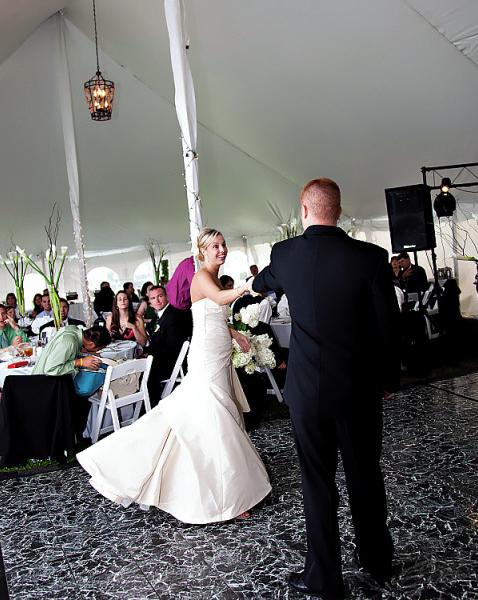 If you are planning a wedding, formal party, or special event, Masterpiece Rentals offers flooring to help make the experience more enjoyable for your senior guests, those wearing high heels, as well as disabled guests who may have mobility concerns on uneven terrain. Whether your event is indoors or outdoors in a field, by a river, or on a mountaintop, everyone can experience comfort and security with our excellent temporary flooring options. Attractive and sturdy, our gorgeous flooring options are a perfect addition to your formal tent rental.
Beautiful Formal Dance Floors
If you are dreaming of having your wedding or special event in the beauty of nature, there is no need to rent a dance hall inside a building to give your guests a great dance experience. Masterpiece Rentals carries a nice selection of beautiful formal dance floors and tent flooring in your choice of Gray Barn Wood or Wood Grain natural-looking wood finish. If you are not sure which size dance floor you need, contact our event planners. We can accommodate parties and receptions of all sizes from small, intimate gatherings to the grandest events in the region.
Choose Your Dance Floor: Dancefloors start at $800.00 and go up
18×18 Gray Barn Wood Dance Floor
20×20 Wood Grain Dance Floor
20×40 Wood Grain Dance Floor
An adequate cover is required for all dancefloors used outdoors.
*Our heavy-duty flooring can be used indoors as well as outdoors. Please note that flooring installation on grass requires an underlayment. There is a small additional fee for the grass installation option.
Make a Good Party GREAT – Custom Dance Floors by Masterpiece Rentals
Masterpiece Rentals will custom build the perfect floor to help your guests dance the night away (or simply walk to the refreshment table with sure and secure footing). Consider our tent flooring options for the best overall layout and design for your event. A great floor promotes guest socialization, interaction, mingling, and making of some of the best memories of a lifetime. Your guests are choosing to spend their time at your wedding, party, or event – make it one of the most wonderful times they've ever had! They will appreciate it. Masterpiece Rentals makes good parties GREAT!
Tent Flooring – Dance Floors & More
Keep your guests' feet dry and provide a level walking surface for those likely to be wearing formal dress and heels, as well as those with mobility limitations with our sturdy, level flooring options. If you will be serving adult beverages or offering opportunities to dance, make sure your guests have a stable floor beneath their feet. Portable flooring is available in sizes up to 7,200 square feet. Tent Flooring prices start at $1.25/Square Foot Please contact Masterpiece Rentals for availability. Call: 304-637-2789.
---